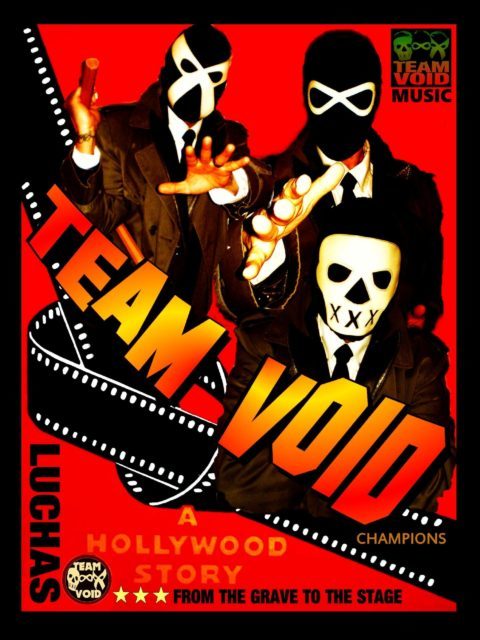 Horror Show Hosts Iris and Retina hired the Champions of Lucha Rock-N-Roll to do soundtrack work for MONDO SMASH A' GO-GOs 2nd Season. "TEAM VOID supplying Lucha Rock-N-Roll is a plus! Our viewers can see cult classic movies in a new way," says Iris of MSAGG.
Not only are the opening credits using TEAM VOIDs song, "TO DEATH" as the new theme song but they replaced public domain movie soundtracks by dropping in our songs from LPs: GONE WITH THE WEREWOLVES, ROBOT KILLER, MEXICAN BUS and EP, CURSED TO ROCK THE LIVING.
TEAM VOID have been b- movie FANS FOR YEARS…."To get this break into Television doing what We love doing, playing instrumental movies and recording for new sountracks for some of our favorite b- movies is a dream for us." says Johnny X of TEAM VOID.  One of the first attempts to do this was on OUR FAVORITE B-MOVIE…."FRANKENSTEIN MEETS THE SPACE MONSTER". The movie originaly featured two other bands, The Poets and Distant Cousins for a rock -n-roll vibe to the movie.  Now with four hits from TEAM VOID replacing the soundtrack to the movie gives it another feel to the action with the modified vintage lucha rock-n roll. "We are so excited about the experiment and working with Iris and Retina says Infinity of TEAM VOID. "the Mondo Smash A'Go-Go show has alot in common with TEAM VOID, It is nice to work with them they are alot of fun."  One note to mention, TEAM VOID AND MONDO SMASH A' GO-GO will be joined at the hip together working on TEAM VOID HITS with a MONDO SMASH A'GO-GO GOOD TIME.
You can see MSAGGs latest episode "Frankenstein Meets The Space Monster" (1965) featuring TEAM VOID music played throughout a B movie when you catch MSAGG November 30th, 2020 released online: FaceBook/ YouTube/ MonsterChannel/ DATV Streaming and more cable access channels as we spread the word that TEAM VOID is teamed up with MONDO SMASH A' GO-GO Movie Playback Television Show.
Stay tuned for show times on a channel near you!-Thank you TEAM VOID GraveDiggers!
EL MUERTO